Chinese New Year
Chinese New Year Eve is the date for people reuniting and thankful. It is almost same as the Thanksgiving day. Chinese new year is also called Chinese Spring festival.
How to Celebrate Chinese New Year?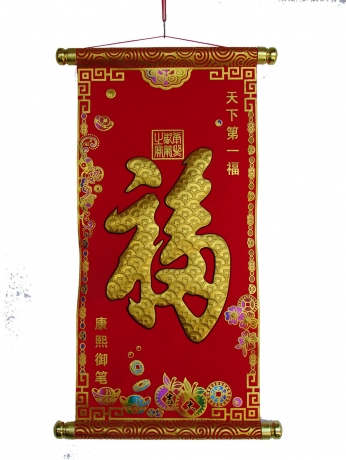 Clean the whole house: This is the symbol of cleaning the bad chi that left in the previous year in order to welcome the good chi in for the coming year. People also need to have hair cut, take a shower and dress prettily. This is also the good day to throw away the old feng shui items that are useless;
Make Chinese "Nian Gao" and cook a lot of food. The food for Chinese New Year Eve should be very abundant. The "Nian Gao" is New Year Cake that make out of glutinous rice flour. "Nian Gao" is pronounced same as "High in the new year". The higher the "Nian Gao" is, the better the new year is;
Pray to the Gods of "Tu Di" and ancestors who passed away using the "Nian Gao" and foods. The gods of "Tu Di" is the god of the earth. Chinese people thanks to them for safety in the previous year;
Hang/put Spring Festival couplets on gateposts. Spring Festival couplets are red New Year Scrolls which are originated from ancient scripts. In modern, people write auspicious sentences on the scrolls to wish them wealthy, prosperous and safe in the coming year. In addition to the couplets, people also paste some pictures, which symbolize good luck and noble, on the door panels or windows;
Gather together eating the dinner. This is also the time to wish something each other. In addition, people can't eat all the food. the remain of food is the symbol of abundant and wealth ( Nian Nian You Yu);
After finishing dinner, people are gather together waiting for the New Year coming. They usually don't sleep at that night. Young persons need to "Sou Xiu" for their parents and wish their parents live longer ("Sou Xiu" means "holding age" );
Old people put money inside the red envelope and give them to the younger and hope the younger good luck in the coming year. Giving red envelope is called "Li Shi";
Thing can't Do in Chinese New Year
Don't use water to clean the floor or dump trash. Water is the symbol of wealth. People don't want the money to go away. Dumping trash is like "giving away";
Don't kill animals. It symbolize safety (no war);
Don't break porcelain bowls or plates. Broken is the opposite of reunite;
Don't use scissors or needles. Using scissors or needles is said it will bring bad chi;
Don't speak inauspicious words.
Items for Chinese New Year