2013 Year of Snake
Chinese Store
Sale Item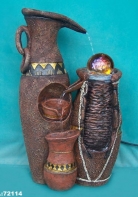 Water Fountain
$62.00
Welcome to Online Feng Shui Store
Feng Shui Import is one of the direct importers and distributors of feng shui items in San Diego, California since 1998. It has widest ranges of selections on Feng Shui Supplies as well as Asian gifts at the lowest price with the excellent quality and service.
Feng Shui Import is the best online feng shui store to buy feng shui items and Asian gifts. It also has one Chinese shop in San Diego. In our oriental shop, you will find over 3000 oriental gifts in our feng shui shop.
Feng Shui Import has drop ship, affiliate, psychic readings (Tarot Reading and Astrology Readings ) and wholesale gifts. Online also lists a lot of well-known feng shui consultants and free feng shui tools to calculate Chinese zodiac sign and personal's Gua Number. In addition, online website has free feng shui tips, yearly Chinese horoscope (Some are in our feng shui blog or Forum).
Flat Rate
like USPS first class and USPS international first class are offered in the shipping methods.
Free Shipping
($1.75 handling charge) to US continent for order (before discount, tax and S&H) over $85.00.
Go to facebook located at the upper right corner and LIKE Us to get
Feng Shui Import Coupon Code
right away.
Get instance notification of our newest feng shui products by subscribing our
Buy Feng Shui Supplies
Feng Shui Products, Feng Shui Tips, Wholesale Gifts at Chinese Store
1.
Buddhism & God
: includes
Buddha statues
,
Kuan Yin Statues
, Three Gods (Fuk Luk Sau),
Kuan Kong
, lucky figurines and Buddha supplies (such as Buddha pendants, Buddha beads, Buddha lamps, incense sticks and incense burners, etc).
2.
Chinese Gifts
: include Chinese chopsticks, Chinese tea, tea set, teapots, saki sets, spoons, plates, bowls, Chinese lanterns, wall scrolls, frame pictures, hand fans, hand bags, lipstick holders, coin purses, jewelry boxes, jewelry bags, oriental dolls, Asian music gifts, jade products, wooden crafts, glass figurines, toys for kids, vases and pots for lucky bamboo, etc.
3.
Feng Shui Animals
: include Chi Lin, Dragon phoenix, dragon tortoise, elephant figurines, fish figurines, turtle figurines, Foo Dogs, mandarin ducks, money frogs, pi yao and auspicious animals (including rhino figurines, lucky cat, etc figurines).
4.
Chinese Zodiac
: It includes Chinese 12 animals: Rat statues, Ox statues, Tiger statues, Rabbit statues, Dragon statues, snake statues, horse statues, sheep statues, monkey statues, rooster statues, dog statues and pig statues.
5.
Feng Shui Products
: It has Chinese coins, Bagua, feng shui bells, singing bowls, chimes,
bejeweled items
, ingots, crystals (including crystal balls, crystal lotus, crystal globes, crystal pyramid and crystal paperweights), feng shui keychains, lucky charms, 5 element pagoda, red scrolls, ru yi scepters, wind chimes, sailing boats, wu lou and others (such as compass, coin sword, etc).
6.
Gemstones
: It has amethyst gemstone (including amethyst pendants, amethyst pendulum), aventurine gemstone, citrine gemstone (including citrine pendants and citrine bracelets), rose quartz gemstone (including rose quartz pendants, rose quartz bracelets), tumbled stones and other gemstone stones (clear quartz, fluorite gemstone, etc).
7.
Jewelry
: It has jade necklace, jade pendants, jade bracelets, jade earrings, jade rings, Dzi necklace, Dzi bracelets, crystal bracelets, crystal earrings, pearl necklaces, pearl earrings, gemstone pendants, gemstone necklaces and other bracelets (such as cat eye bracelets and liuli bracelets).
8.
Feng shui books
including Lillian Too's yearly zodiac feng shui books, almanac and diary.
9.
Feng Shui amulets
as feng shui gifts,
feng shui keychain
as talisman, special metal items for
feng shui cures
and
water fountains
. In our water fountain supplies, you will find over 100 kinds of small water fountains for indoor or table and big water fountains for garden or outdoor.
Besides above main supplies, there are lucky bamboo, live money tree plants, flower pots, Asian style vases, big vases, shoji screen (room divider), Chinese clothing, such as Cheongsam, Tangzhuang, pajamas, kimono, kung fu suits, Chinese style suits for girls or boys, Chinese style shoes, etc in our Asian shop.
Note
We will get a lot of
2013 feng shui products
for Lillian Too's
horoscope kit
in stock soon.
Those feng shui products are Trinity Animals, Tai Sui Plaque 2013, Windhorse Plaque, Windhorse Bell, Pendant of Wind Horse, Annual Protection Amulet, Tai Sui Amulet 2013, Red Crystal in Apple, Power Elephant, Wish Granting Tree with Charms, Three Harmony Warriors Mirror, Thousand Armed Kuan Yin Crystal Ball With Lotus Stand, White Umbrella Crystal Ball with Lotus Stand, The Precious Minister Qui Ren holding Windchime, Bejeweled Wind Horse Lung Ta, the Sun Plaque with three-legged Peacock, Hum Lampshade, 7-Medicine Buddha Plaque, Noble Stack of Auspiciousness Plaque, The Moon Rabbit, the 3 Sun Mirrors, 3 Legged Bird with Sun, Precious Horse and Popularity Talisman, Magic Diagram Red Sword Mirror, Confucius and Bejeweled Four Heavenly Kings, Kalachakra Mandala Plaque, Crystal Ball with Gold Bubbles,
Kalachakra Stupa
, Annual Protection Amulet,
Big Auspicious Fortune Mirror
, Crystal Globe with Dragon, Wu Luo With 5 Bats with Trigram, 4 Friends Windchime, A Pair of Golden Camel, Golden Pagoda with Camel Keychain, Kalachakra Pendant, Peace and Harmony Amulet, 8 Auspicious Bell, etc.
See
Feng Shui Products 2013
.
Testimonials
1: It was a very pleasant shopping experience. Good communication of order status and shipping information. The product was packed nicely in an effort to avoid any damage in shipping. I am very pleased. Thanks. By Shopper

2: I was pleasantly surprised with my online order. I couldn't wait to get them! I will be looking forward to purchasing more items from you real soon! Thank You, Amalia Villate

3: Thank You very much for shipping my order in such a timely manner. by Susan Paige

4: I've bought from them before and I will again, everything I've bought I'm so pleased with..and the information on the products are great...where they should be placed and what they are used for....Money, Career, etc....They do a great job...Thanks to everyone! S.M.

5: You a good store to order from. I received my order in a neat way, packaging of the item ordered was presented nicely. The items were not cheaply made. fine detail. I would order again from this company. Delivery was easy and timely-tracking was also available and on time. By Shopper

6: I would like to thank Chinese Store - Feng Shui Import, for my two packages arrived one after the other, and every contents of the packages are totally complete. And the shipment didn't take long to wait for my orders, since I start ordering on your store. Your all are very reliable and dedicated and trustworthy. You make me totally happy and I enjoy the products I ordered from your store.

God Bless you all and may we all prosper with the purpose that we and I want to come true and fulfill. Keep up the good work, all your products are the best. Thank you from the bottom of my heart. Respectfully, Emma Nakamoto


Like Us
Feng Shui Guide
Tools & Programs
Site Information
330 Rancheros Dr, Suite #132, San Marcos, California 92069, US