Your cart is currently empty
Zen Garden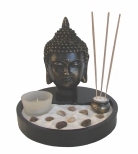 What is desktop zen garden used for?
Desktop zen garden refers to those small zen garden placed on the desk for meditation as well as art for review and relaxation.
How to make a small zen garden?
Usually small zen garden is consisting of pot or plate filled with some rocks and sand. You also can add small Buddha statue, incense, candle and rake to your mini zen garden. Some zen gardens have water feature too.
If you want to wholesale zen garden, please contact us.