15% Off!
Coupon: NewYear18
(See
Homepage
)
Your cart is currently empty
Sale Item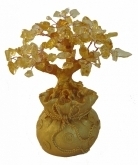 Gem Trees, Jade Stone Trees, E
vil Eye Trees
Natural gem trees category has Chinese jade stone trees, evil eye trees, citrine gemstone trees, Aventurine trees, Amethyst Tree, rose quartz tree and other mix gemstones. See other money trees, such as money tree with crystal base, wish granting tree, etc.