Free Shipping!
Upon Order Over $85.00
(See
FAQ
for Detail)
Your cart is currently empty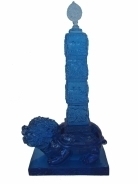 Blue Rhino Statues, Rhino Charms, Rhino Amulets
Feng shui blue rhino can lower down the inauspicious flying star #7 which causes lose and violence. There are feng shui rhino statues, rhino charms, rhino elephant statues and rhino anti burglary talisman amulets in this category.
Check our yearly feng shui tips 2016 for location of the flying stars (We will update it to feng shui tips 2015 soon).