Your cart is currently empty
Buddhism & Gods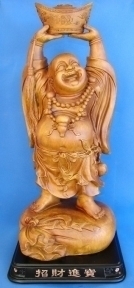 Buddhism Gods, Chinese Buddhism, Buddha Statues
Chinese Buddhism Gods has Buddha statues, Kuan Yin, Kuan Kong, Three Gods, lucky figurines, incenses and incense burners as Buddha supplies.
Buddha statues had big Buddha, small Buddha, happy Buddha, laughing Buddha, meditation Buddha, medicine Buddha, Buddha pendants, Buddha charms, Buddha supplies. Hindu Buddha, Tai Buddha and ganesh Buddha are also included.
Kuan Yin has Kuan Yin statues, kuan Yin pendants, kuan yin charms and kuan yin vases.
Refine Search